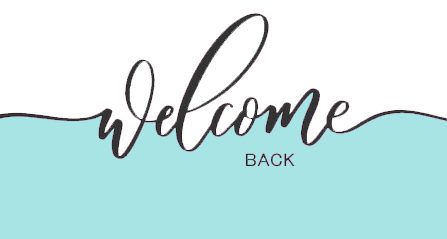 WE ARE NOW OPEN…Welcome Back!
Tranquility awaits you… we all need an escape right now! CALL TO BOOK – 519-652-2780.
Please be patient and kind with our staff, as we try to accommodate an overwhelming volume of appointment requests and provide services to the best our abilities at this time. We thank you for your continued support and patronage. We look forward to welcoming you back for some much needed relaxation.
We are reopening on Monday, June 15th by appointment only for specified Aesthetic, Hair, Registered Massage and Medical Injectables (Botox & Fillers) with our on-staff doctor. We are fully complying with all requirements mandated under Phase 2 of Reopening Ontario and the London Middlesex Health Unit documentation provided for Personal Service Settings.
*PLEASE NOTE: As we abide by the current regulations provided, we are NOT PERMITTED to perform aesthetic/hair treatments on the face or any areas of the face at this time. (Therefore, all previously booked or existing bookings such as; facials, peels, facial waxing, etc. have been cancelled). In addition, some service protocols may be altered in order to comply with current restrictions and regulations. A reminder that our 48 hour cancellation policy is in effect, therefore any missed appointments or cancellations not given within 48 hours prior to your appointment will be subject to loss of deposit.
___________________________________________________________________________________________________
WHAT TO EXPECT DURING COVID-19
 If you have any questions or require further information in regards to booking an appointment and our current protocols,
please contact our Spa Concierge at 519-652-2780, where our wonderful staff will be happy to assist you. 
Botox & Fillers Event – WELCOME BACK!!!
July Dates: FULLY BOOKED
Next available dates: AUGUST 13th & AUGUST 27th
Appointments will book quickly. Call today!
Fayez Spa is proud to offer our clientele the latest in medical spa treatments including anti-aging injectables performed by our on-staff physician, DR. KIM IRELAND, one of Canada's top 5 for Botox & Restylane! 
All injectables such as Botox, Restylane, Xeomin, Dysport, Revanesse, Belkyra, Selphyl and much more are performed by our on-staff physician, Dr. Kim Ireland. Committed to ensuring that her patients look and feel their best, Dr. Ireland's 17 years of medical injectable expertise in consultations and treatment plans ensure satisfying and natural results. Many injectable treatments are as dramatic as surgical facelifts – without the painful and lengthy recovery that results from surgical procedures. During a consultation, Dr. Ireland and discuss and recommend the best treatment to help turn back the clock or simply to enhance certain features.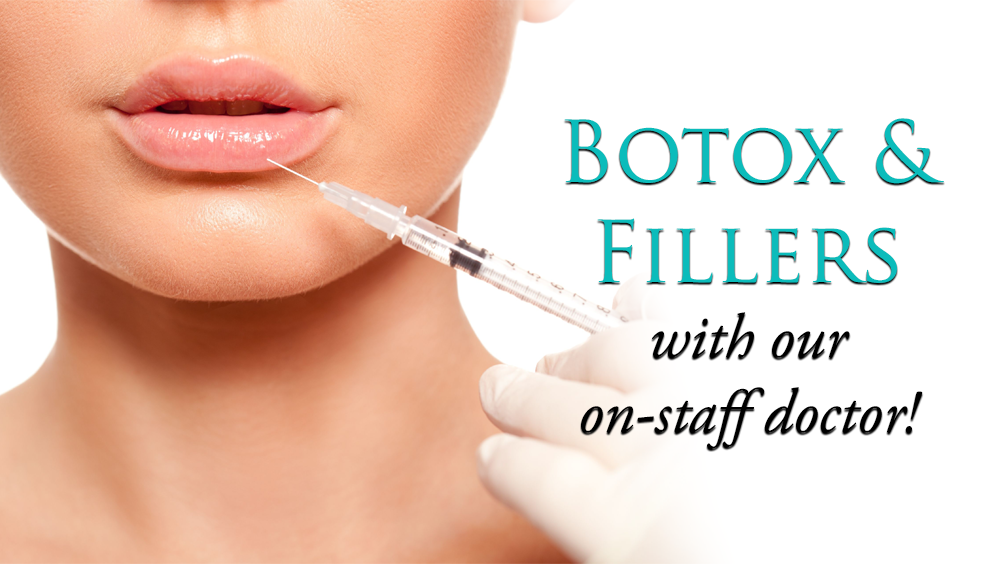 Consultation fee is waived when services are performed the same day.
To book, call the spa concierge at 519-652-2780
We are REOPENING – MONDAY, JUNE 15TH by Appointment Only for specified Aesthetic, Registered Massage & Hair Services in addition to Medical Injectables (Botox & Fillers) with our on-staff doctor!
PHONE LINES NOW OPEN!
We know that you are excited to book an appointment, so please be patient as our Spa Concierge Staff work diligently to reschedule previously booked appointments that were cancelled. Email bookings will not be processed at this time, however we will respond to previous email requests as soon as possible.
PLEASE NOTE: Current (Phase 2) regulations state we are NOT PERMITTED to perform any treatments on the face or any areas of the face at this time. (Therefore, all previously booked or existing bookings such as; facials, peels, facial waxing, etc. have been cancelled).
OPERATIONAL UPDATE
(June 1, 2020)
We are intently monitoring the current situation (Stage 1) of reopening the province, however we are still not permitted to provide spa and salon services at this time. Once we receive approval from the Province, allowing us to resume operation, we will release our official opening date, which we are hopeful will be very soon. Please stay tuned to our VIP e-news and Facebook page for the latest updates.
We have been hard at work behind-the-scenes preparing to reopen with many safety modifications and wonderful cosmetic updates to enhance your next spa visit. "New" protocols and routines for both clients and staff to follow, will be in place to ensure the health & safety of everyone. We are confident that our 9,500 square foot facility will allow for proper distancing protocols while still providing a relaxing spa experience.
Further details will follow in regards to booking appointments, protocols for arrival and check-in procedures and more, once we know an official opening date.
We look forward to opening our doors and welcoming you back soon. In the interim, check out the SPECIAL OFFER BELOW to replenish any skin, body or hair care products, along with diffusers, essential oil blends and more.
(April 29, 2020)
During this time of uncertainty, even though we are temporarily closed, we are still working hard behind the scenes to ensure a safe and smooth return to operation as we wait upon instruction from our governing health officials.
Here at Fayez Spa, it is of the utmost importance to provide and sustain a clean and safe spa environment as usual. We pride ourselves on having the highest standards of sterilization and disinfection protocols and we strictly adhere to the sterilization policies and procedures recommended by the London/Middlesex Health Unit. We are fully prepared to implement any modifications and/or changes to ensure the safety of our clients, staff and our family upon reopening.
Please stay tuned for any updates and we encourage everyone to stay healthy and safe. We look forward to seeing you soon.
Sincerely,
Fayez Tamba
Owner & Managing Director, Fayez Spa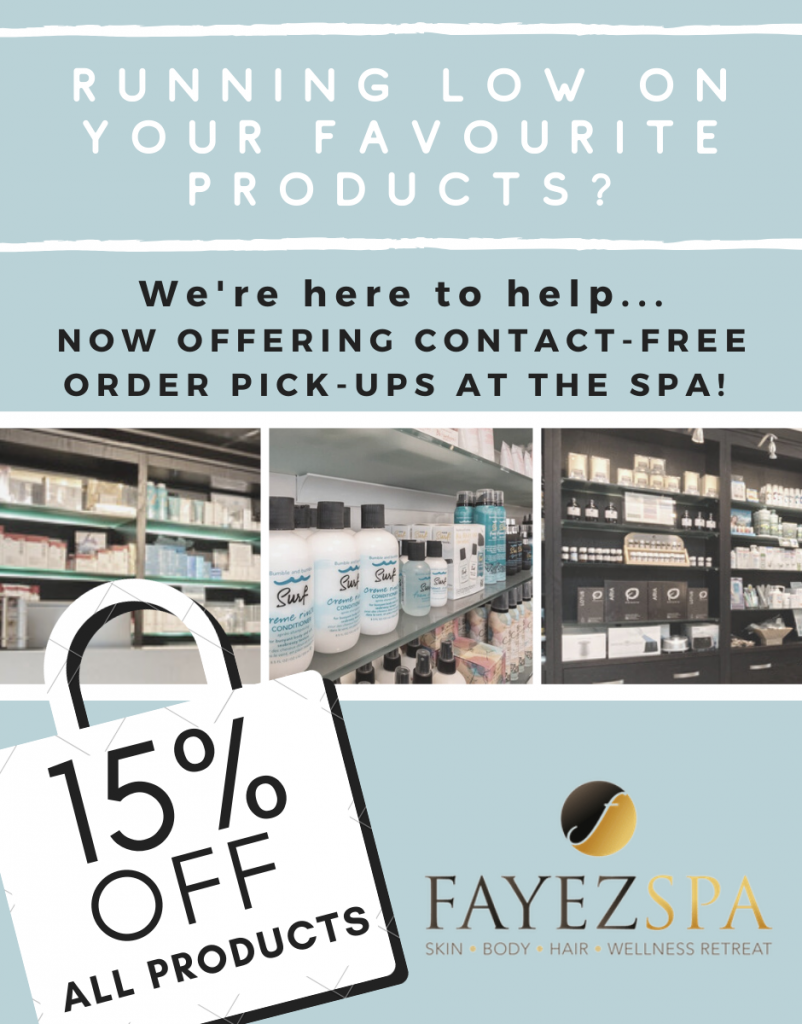 We understand that these are times of uncertainty for everyone and we'd like to express our thanks for your loyalty. As a valued client of Fayez Spa,  we'd like to pass along savings of 15% OFF on ALL PRODUCTS to help you replenish your skincare, hair care, nail or body products, essential oils, etc. during our temporary closure due to the COVID-19 crisis. (Offer valid until June 1, 2020).
Simply follow these steps:
SEND US AN EMAIL to fayez@fayezspa.com with your first & last name, phone number and the product(s) and quantity that you would like to order. We will email back your Order Total.
CONTACT-FREE PICK-UP AT SPA will be arranged once payment is received. Your order will be packaged and we will setup a date and time for pick-up.
Thank you for your continued support and patronage during this time.
We look forward to welcoming you back soon.
Disclaimer: This promotional offer does not apply to gift card purchases or services.
(March 22, 2020)
FAYEZ SPA REMAINS CLOSED UNTIL FURTHER NOTICE
& UPCOMING CELLCOSMET EVENT POSTPONED.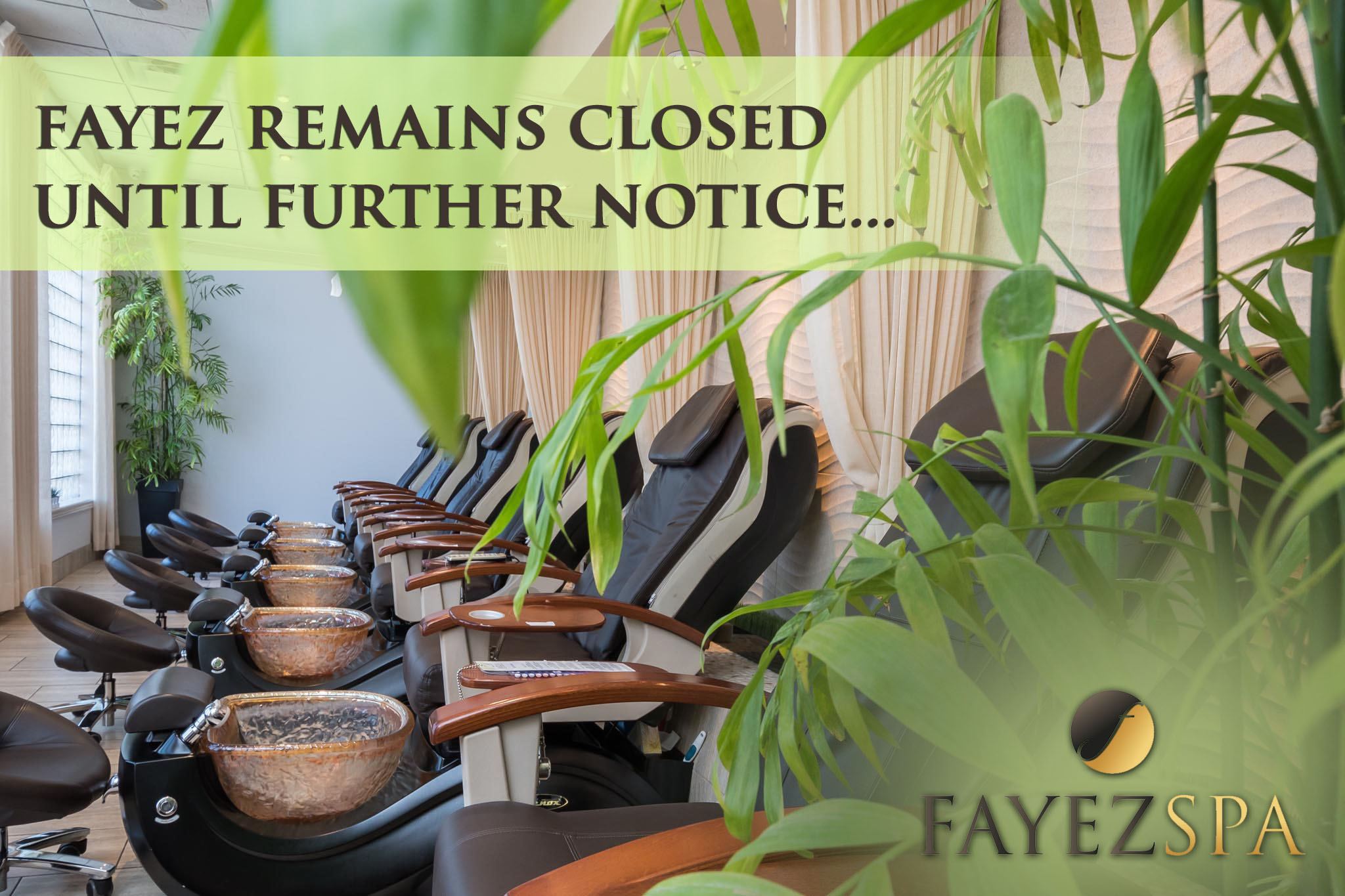 During these times of uncertainty, the health of our guests and our team is essential above all else, therefore we currently remain closed until further notice. We are closely monitoring the situation of COVID-19 and hope to reopen as soon as it is deemed safe. We apologize for any inconvenience for those with existing appointments, as all appointments will be postponed for the time being. A plan to re-open and rescheduling of appointments will be based on instruction and recommendations given by public health officials and our government.
For those of you who took advantage of our Cellcosmet Promo Day previously scheduled for this coming (Thur., March 26th) and booked appointments for your Complimentary Facial OR Face & Neck Treatment with purchase, please don't fret we will reschedule as soon as possible.
Follow our Fayez Spa Facebook page for the most up-to-date news and information AND subscribe here if you are not already a Fayez VIP e-news recipient to receive direct emails.
We give our immense gratitude and respect to the healthcare and frontline workers for their heroic efforts and we encourage everyone to do their part to prevent the spread of the COVID-19 outbreak. Stay updated, follow instructions given by the experts and our government and stay positive.
From everyone at Fayez Spa, we thank you for your support, and look forward to welcoming you back very soon. Please direct any inquiries or questions to fayez@fayezspa.com.
Fayez Tamba
Owner & Managing Director, Fayez Spa
(March 19, 2020)
FAYEZ SPA IS SUSPENDING OPERATION

AS PRECAUTIONARY MEASURE AGAINST SPREAD OF COVID-19.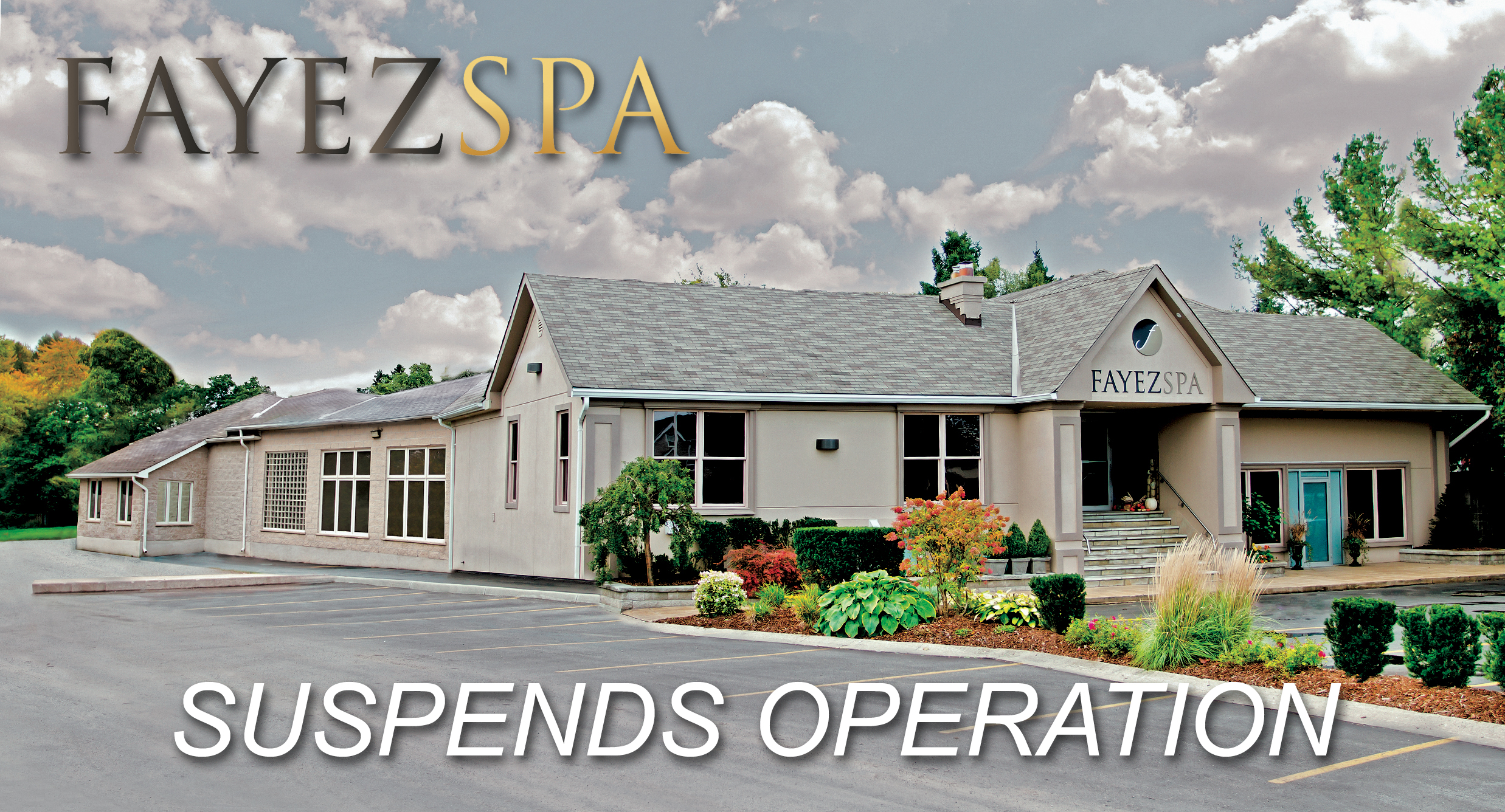 As of Monday March 16th, here at FAYEZ SPA, we have made the proactive decision in order to prioritize the health and wellness of our clients and employees, to suspend our operation until further notice. This decision is based on the recommendation of the Public Healthy Agency of Canada and to assist in reducing the potential spread of COVID-19. This closure will be temporary and is the best way to safeguard the health and well-being of our community.
We sincerely apologize for the inconvenience caused to clients and guests who currently have appointments, as well as those who were planning to visit us in the near future. Any appointments currently booked up to Saturday, March 21st will automatically be cancelled. Appointments and special events scheduled for the following weeks will be evaluated over the coming days based on expected recommendations and updates provided by health officials and our government.
Updates on operations and plans to re-open will be communicated through Fayez Spa's website, social media accounts (Facebook), as well as our direct email newsletters. If you are not currently subscribed to our e-news, you can sign up here.
We encourage any inquiries or communications to be done via email at fayez@fayezspa.com
Thank you for your understanding and your loyalty. We wish for everyone to be healthy and safe. After all, we are all in this together
Fayez Tamba
Owner & Managing Director, Fayez Spa
SPECIAL EVENT – Postponed Until Further Notice
On THURSDAY, MARCH 26th, only a few spots left!
Astonishing results in one treatment!
DON'T MISS OUT on this rare opportunity to receive a FREE Cellcosmet Cellular Face &
Neck Anti-aging Treatment valued at $260.00 OR the Anti-Aging Facial valued at $225.00.
BONUS OFFER..Receive a FREE GIFT with total purchase of $1,000+ before taxes.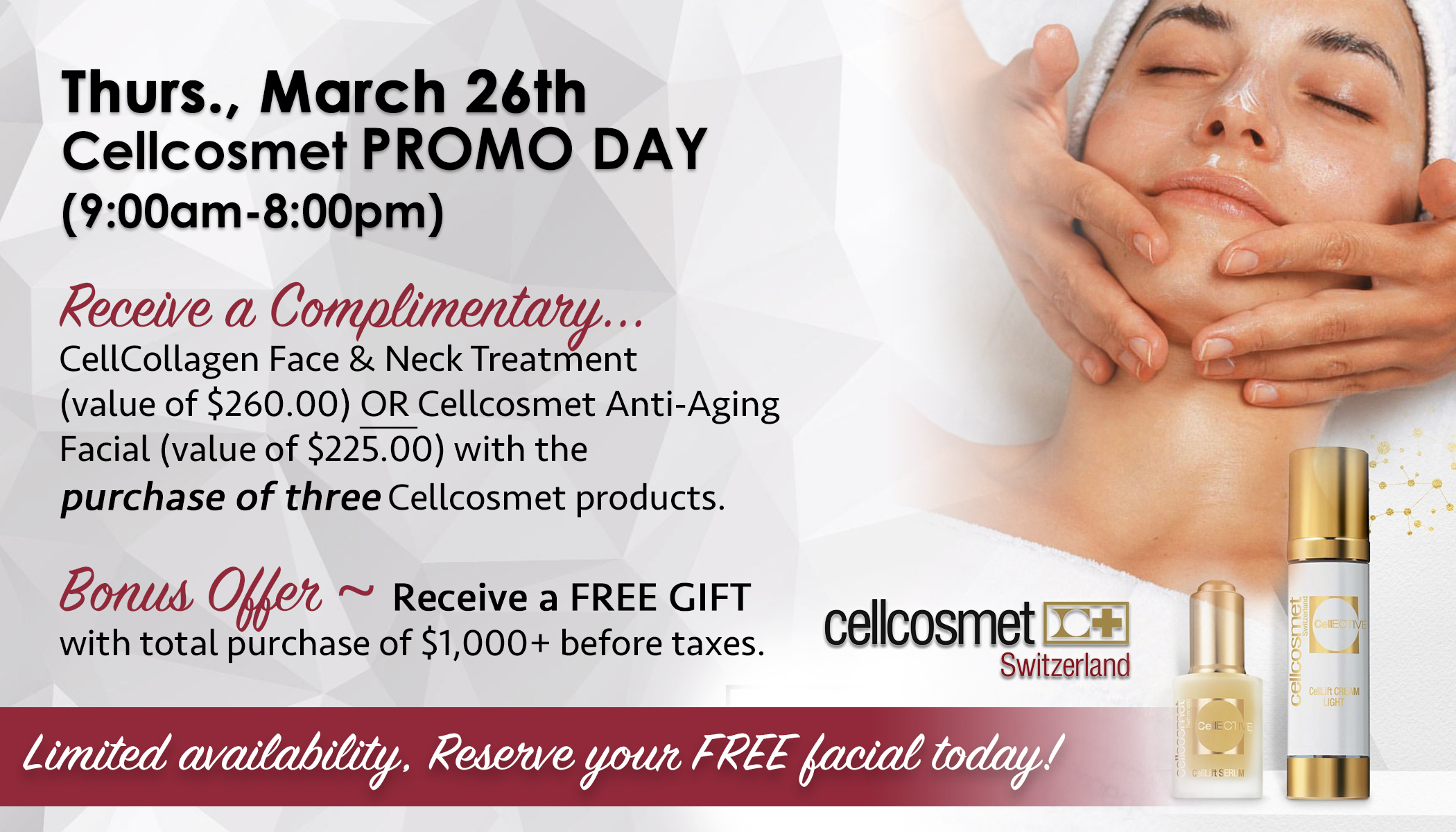 To reserve your free treatment today, call (519)652-2780.
CELLCOSMET is... Cellular excellence for younger looking skin.Revitalizing cellular treatments have become a world-renowned Swiss tradition. Cellcosmet skin care products are based on a revolutionary cellular based formula. Unlike most cellular cosmetics which use freeze-dried cells, the Cellcosmet products are enriched with bio-integral cells whose biological integrity has been preserved. The result of this breakthrough development is a skin care line that is exceptionally effective in dramatically improving the appearance and quality of your skin.
Discover more about Cellcosmet Skincare and Clinical In-Spa Treatments here.
NEWEST BODY TREATMENT
Discover our exclusive Organic Flower Essence Body Treatment.
A truly unique journey for the body and mind.
The Acua Room at Fayez Spa was designed specifically as an escape for the body, mind and senses like no other, featuring the first of its kind in Canada, the Acua thermal steam table. Its functions lend themselves to the ultimate spa experience with a steam bath, Scottish shower, LED chromotherapy and music therapy.
Re-discover nature with a truly unique journey of the body and mind that is personalized to you…featuring your choice of real organic ingredients such as dried Lavender or Calendula flowers, cane sugar or Himalayan salt and one of four hydrophilic aromatherapy oils that give back to the skin suppleness, comfort and hydration.
Your therapist will begin with a full body & face exfoliation followed by a fragrant mask using real organic dried flower blooms brought back to life with steam. The mask is then applied and left to nourish while relaxing in a soothing aromatic steam bath. Then drift away in true bliss with fitted headphones playing calming spa sounds. The elixir is then rinsed with a warm shower and your journey is complete with a 45 minute aromatherapy massage using the scented hydrophilic oil of your choice.
Consumer Choice Award for 2020
Fayez Spa is Voted Best Day Spa of London
Fayez Spa is proud to be the leading wellness spa retreat in the region for the eighth year in a row.
We are extremely proud to be voted London's Consumer Choice – Day Spa for the 8th year running. Here at Fayez Spa, we strive to exceed our clients' expectations on each and every visit, therefore we thank our entire spa team of therapists, stylists and aestheticians for their dedication in delivering superior customer service to our discerning clientele.
Birthday Gift Registry
Fayez Spa honours birthdays of loyal clients.
Loyalty is rewarded if you have been an active loyal client at Fayez Spa within the past twelve months. To mark your birthday, you will receive a 5% discount by email to be used on all services for the first appointment within three months following your birthday or on retail product(s). Birthday discount excludes injectable and permanent makeup services.
To register your birth date just email it to fayez@fayezspa.com
No need to specify the year!
To receive the discount You will receive your birthday greeting by email. Please print it and bring it to the spa with you when attending your "birthday" appointment, within the three months following your birthday.