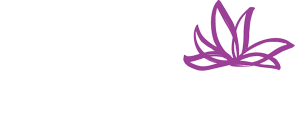 Transform your looks and your life, with Thermage
Smoothed, tightened and contoured skin for an overall younger looking appearance in a single treatment!
What is the Thermage® CPT treatment?
The Thermage CPT treatment is a significant leap forward in skin tightening and body contouring technology utilizing Comfort Pulse Technology to get skin back to its healthy, youthful appearance. This treatment is the premier non-invasive procedure to contour the skin in a single treatment with no surgery, no injections and little to no downtime.
How does Thermage® CPT treatment work?
The Thermage CPT treatment works by using monopolar radiofrequency technology to heat collagen fibres deep in the skin and underlying tissue causing it to immediately tighten while stimulating collagen growth over time, which reduces sagging, renews contours, and improves the smoothness and texture of the skin's surface.
What parts of the body does Thermage treat?
Thermage CPT treatments can help contour skin safely on most body parts, including the face, eyes, tummy, arms, hands, knees, thighs and buttocks.
What does the Thermage CPT treatment feel like?
The Thermage CPT treatment incorporates Comfort Pulse Technology with a vibrating hand  piece and scientifically advanced treatment tips will deliver a deep but brief heating sensation, followed by another cooling sensation. The vibrating hand piece provides a more comfortable experience. Throughout the procedure, your Thermage specialist will ask for feedback on the level of heat sensation to help balance your comfort with maximum results.
When do the results appear, and how long do they last?
Visible results may be immediate, and they may appear over time in the course of your body's natural collagen rebuilding process. For most, measurable tightening and contouring appear gradually in the two to six months following a single treatment session. Results can last years depending on your skin condition and aging process.
How many treatments will I need?
Unlike many procedures requiring four or more sessions, most Thermage clients benefit from a single treatment. The treating service provider will determine the course of treatment that is right for each person, based on the person's needs and goals.
How long is the treatment?
Thermage CPT treatments can range starting at 45 minutes for the eyes and up to 2 hours for face and other parts of the body, depending on the size, location and condition of the area to be treated.
Is there any special preparation or follow-up regimen?
No. Unlike surgery, there is no pre-procedure preparation and there is no special care required after treatment. Most clients return to their regular activities immediately following treatment. Some clients exhibit a temporary redness or minor swelling after treatment, which usually resolves within 24 hours.
How much does the Thermage procedure cost?
Your Thermage specialist will discuss the cost of the treatment at the time of the consultation, as it depends on the areas being treated. The cost typically is significantly less than comparable cosmetic surgery and the results are more natural looking.
Face/Neck by Thermage
With Thermage many clients have seen smoother, tighter skin with less sagging, redefined contours of the jawline and neck and softening of wrinkles around the eyes, mouth and forehead. The Thermage Face treatment works on all skin types and colours.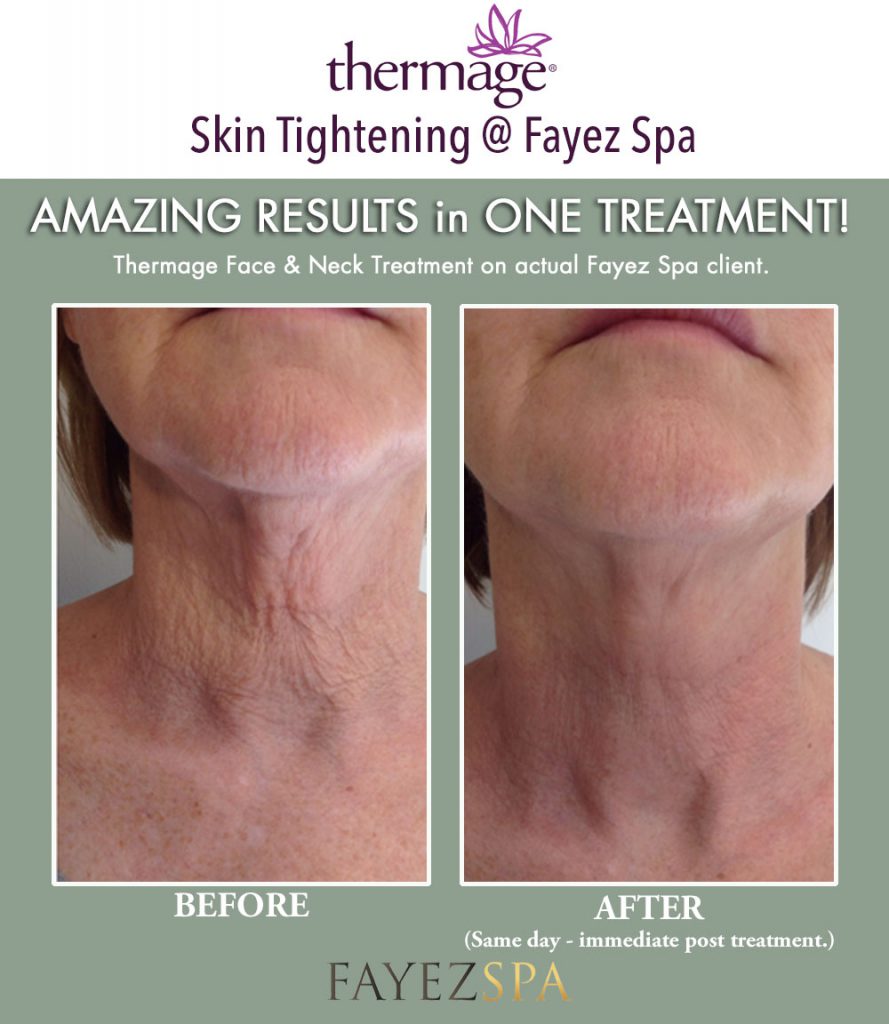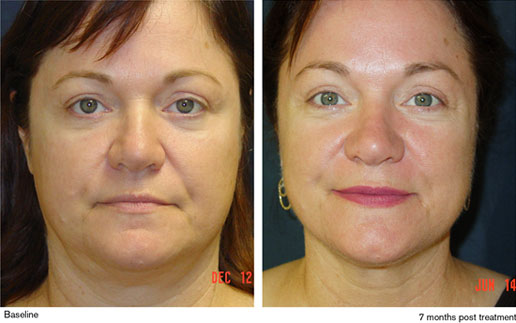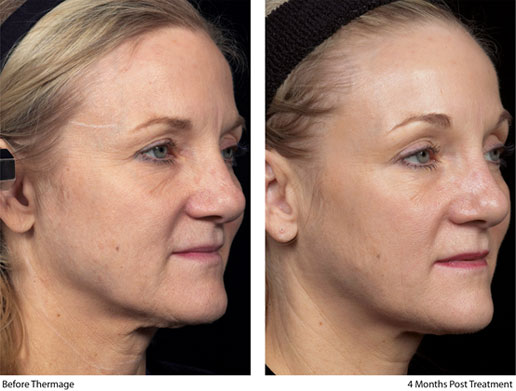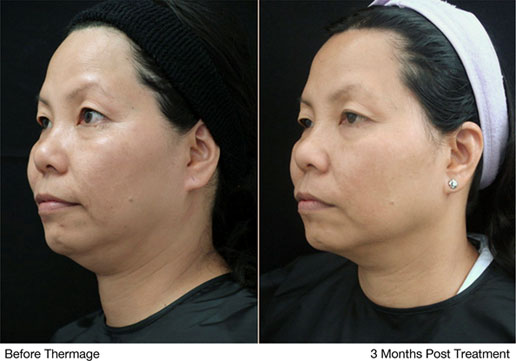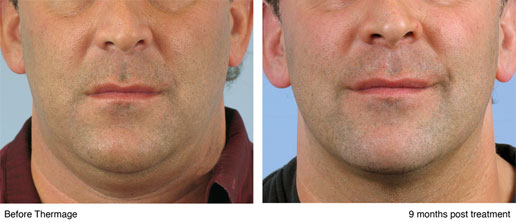 Eyes by Thermage
This is the only procedure that helps smooth and tighten skin and decrease wrinkles and hooding in the eye area without surgery or injections, and with little to no downtime. Many clients have seen younger, more lifted eyes, smoother eyelid skin with reduced hooding, softened fine lines and crow's feet and smoother eye contours overall.




Thermage Face, Eyes & Brows
Thermage Body
Treatable areas: Abdomen, Arms, Buttocks OR Knees.
Price listed applies to one 8″x8″ area.
With Thermage many clients have seen smoother, tightened and firmer looking skin in one single treatment on the treatable areas listed. Unlike lasers, Thermage works on all skin types and tones.
Approximately 90 minutes