AlumierMD Peel Treatments are the next generation of clinical exfoliation. AlumierMD understands that everyone wants clear, beautiful, skin. Using scientifically-based, high performing ingredients, AlumierMD has designed a cosmetically elegant, clean chemical free range of skin care products to suit all skin profiles with exceptional results. All AlumierMD products are free of parabens, sulfates and dyes.
With a variety of peels, each with a unique complex of ingredients, your AlumierMD professional can customize your program of treatments to target your specific skin concerns whether it be optimum skin health & aging, pigmentation, acne, rosacea and more.
A complimentary consultation is required before any treatments can be done.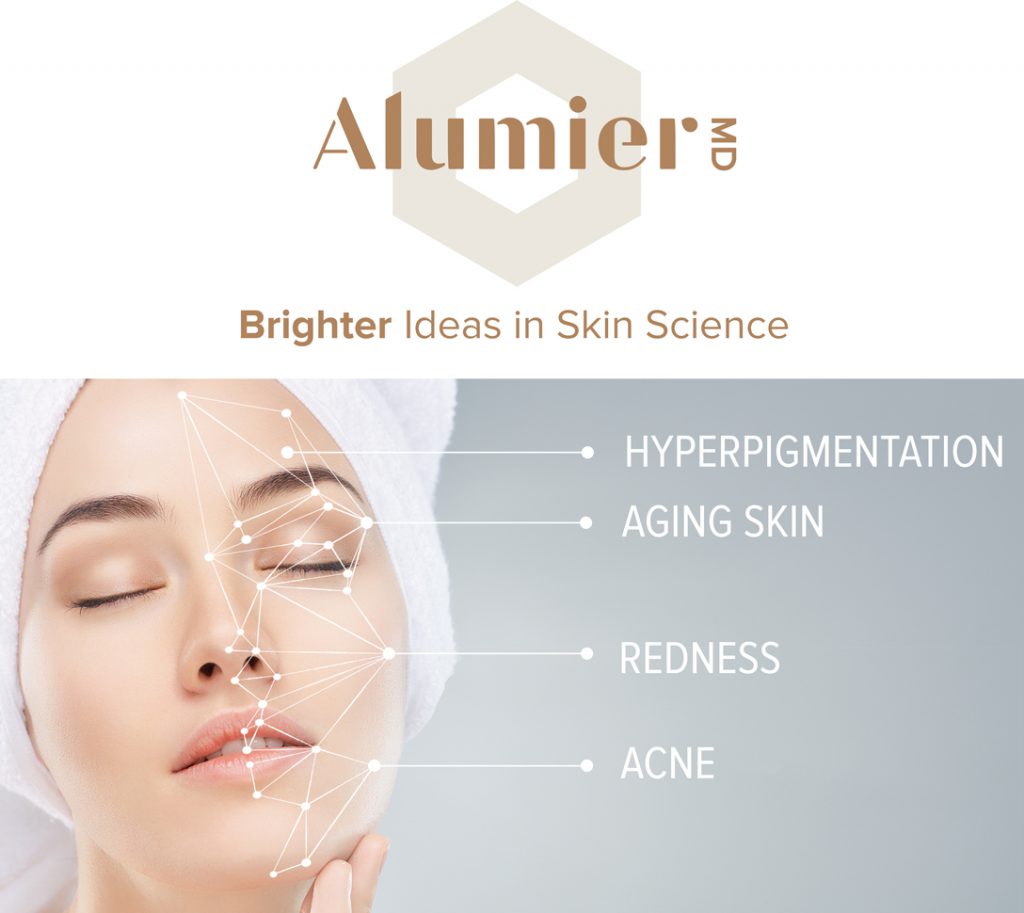 Chemical Peels
A chemical peel is a treatment used to improve skin texture and tone. An acid is applied to the skin to lower the PH, which loosens the connections between dead skin cells, including exfoliation and stimulating new cell growth. This process causes superficial  layers of dead skin to peel off, revealing a smoother and more radiant complexion.
Treatment Expectations
Beautiful skin doesn't happen overnight, and treatments take time to show results. A single chemical peel can provide the immediate effect of bright and radiant skin; however, more significant results in treating texture issues, fine lines and inflamed acne could take several treatments and loyalty to the appropriate home care regimen. Using homeware products consistently and as directed will aid in achieving your optimal results.
Treatment Questions & Answers:
Will AlumierMD chemical peels cause unsightly redness and peeling?
No. Clients sometimes expect to peel throughout the complete treated area. But post-treatment peeling is often similar to peeling after a tan. In some cases, exfoliation occurs on a cellular level and is not apparent to the naked eye. The exfoliation a client will experience varies depending on the peel strength and individual skin profile. AlumierMD chemical peels are light-to-medium depth, and are formulated to reduce irritation and redness.
What can I expect right after a chemical peel?
The skin is initially tender and more sun-sensitive as the epidermis renews itself. After the peeling takes its course (usually 3-5 days after treatment), fresh new skin emerges and ingredients in home care products start to work more effectively.
If peeling doesn't take place, does it mean the peel wasn't effective?
Peeling of the dead skin layers can be macroscopic, meaning you can see the peeling, or microscopic, meaning peeling is occurring on a cellular level, but the skin is not visually flaking. Therefore, you can have an effective chemical peel without actually seeing your skin peeling.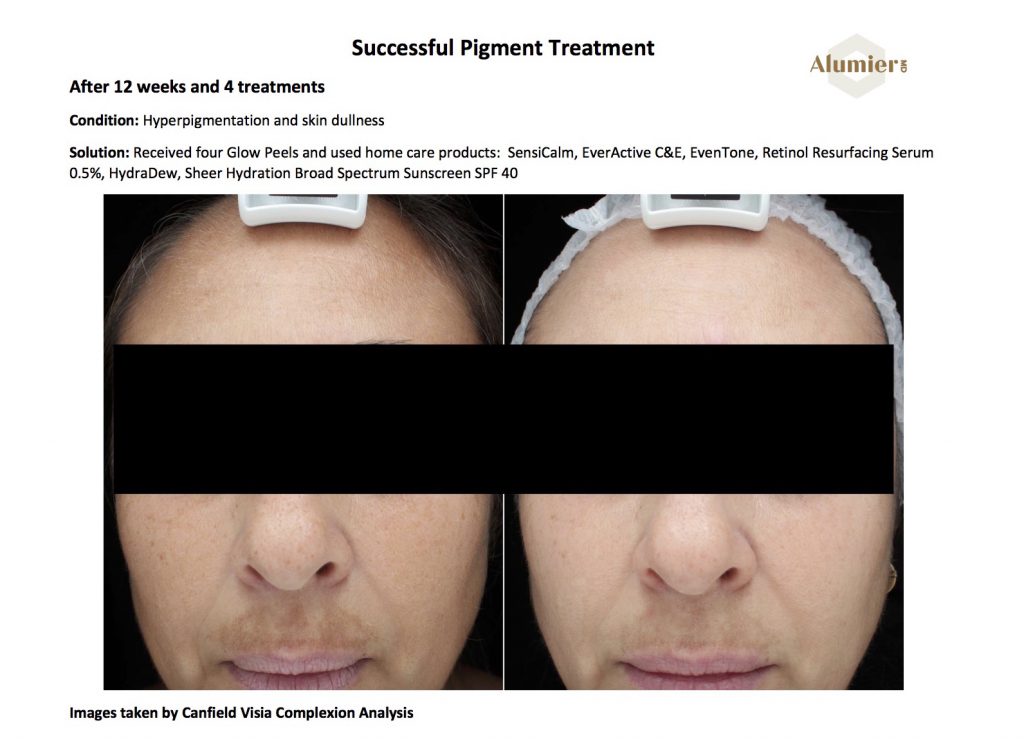 To discover the many AlumierMD treatment options available at Fayez Spa, call for your free consultation 519-652-2780.
AlumierMD Power Glow Peel
Dry, Normal, Oily, Dehydrated, Acne, Hyperpigmentation & Aging
The Power Glow contains the same ingredients as the Glow Peel, but at more potent quantities—14% salicylic acid, 14% lactic acid, and 14% resorcinol. The Power Glow Peel is able to tackle a range of skin concerns including fine lines, large pores, problems with texture and pigmentation, and sun damage. It's the perfect peel for patients looking to restore their skin's natural brightness and glow.
Approximately 30 minutes
AlumierMD Glow Peel
Dry, Normal, Oily, Dehydrated, Acne, Hyperpigmentation & Aging
The Glow Peel is a multipurpose resurfacing treatment that combines the powers of salicylic acid (7%), lactic acid (7%), resorcinol (7%), soy amino acids, and yeast-derived oligopeptide to improve the signs of aging and hyperpigmentation with less downtime. We typically suggest this treatment to people who want to address issues like hyperpigmentation, fine lines, exfoliation, and overall rejuvenation.
Approximately 30 minutes
AlumierMD BHA 20 Peel
Acne, Congestion
Detox Clear contains salicylic acid and lactic acid for excellent pore penetration and exfoliation. Salicylic acid penetrates into the pore and exfoliates dead skin cells and excess sebum. Lactic acid exfoliates dead skin cells and hydrates. Eucalyptus provides strong astringent properties. Together, they work to smooth skin, minimize pore size experience, reduce acne and prevent new pimples from forming.
Approximately 30 minutes
AlumierMD Renew 30 Peel
Hyperpigmentation, Uneven Skin Tone, Dull Skin, Line & Wrinkles
Radiant 30 is an alpha hydroxy acid resurfacing peel containing lactic acid to exfoliate dead skin cells. Boost cell turnover and stimulate collagen, improving skin texture and tone. This multifunctional peel targets multiple skin conditions, including fine lines and wrinkles, discolouration, sun damage and large pores. A great choice for first-timers or clients with sensitive skin.
Approximately 30 minutes