Commitment to excellence and exceeding clients' expectations is the foundation of Fayez Spa's three decades of success. The treatments and services pioneered by Fayez Spa staff are still in demand today, augmented with an extensive menu of Eastern exotics and Western contemporary traditions.
Tranquility and serenity are pervasive throughout this 10,000-square-foot safe haven in the city due to its ingenious design. Here, 45 highly skilled spa professionals perform treatments that engender a dream-like treat for all the senses – with results that you can feel, that your friends can see – and a healing experience that you deserve.
Award-winning industry leader in wellness and beauty.
This multiple award-winning skin, body, and hair wellness retreat continues its industry leadership position with many outstanding awards. Fayez Spa received the SpAward for ranking among the Top 50 Spas in Canada and was voted 'London's Best Spa' by Free Press spa-goers and Consumer Choice Award winner for 12 years running. In addition, the International Spa Association recognized owner Fayez Tamba with an International Spa Association Innovate Award in 2013, being the only Canadian spa operator to be honoured.
These highly prestigious awards reinforce previous recognition by the Day Spa Association of America awarding Fayez Spa its highly coveted Distinguished Day Spa of Canada award; Nationally, Fayez Spa was voted among 'The Top Ten Spas of Canada' by spa-goers whose personal comparative spa experiences ranked Fayez Spa among Canada's best in a country-wide lifestyle and beauty magazine.
Best staff – quality assured
London's best aestheticians, therapists and stylists skillfully provide their discerning clientele a variety of a la carte services and creative spa packages, with the knowledge, training and passion behind them to exceed our clients' expectations. In addition, a specialized menu of medical services under the direction of our on-staff doctor is available for leading edge and non-invasive anti-aging treatments that result in routine referrals from very happy clients.
Stress antidote prescription
The ideal wellness retreat produces results – and Fayez Spa is the epitome – with its extensive menu of wellness and healing therapies from around the world. Health Canada advises that stress can compromise your immune system leaving you vulnerable to disease and illness, so the most important call you could make is to Fayez Spa where the spa concierge can advise the most appropriate therapies customized just for you. Fayez Spa offers massage services by Registered Massage Therapists and clients who require receipts to claim on health insurance plans may request them at the time of booking.
Customized aesthetics
London's best certified aestheticians are skilled at enhancing Mother Nature's attributes. They purify, clarify, and rejuvenate the skin with nourishing and restorative techniques, using only the highest quality products from around the world. Fayez aestheticians are specially trained in a wide variety of traditional North American services, along with the most beneficial beauty and anti-aging skin care treatments from European and Eastern cultures – all customized for each skin and health condition.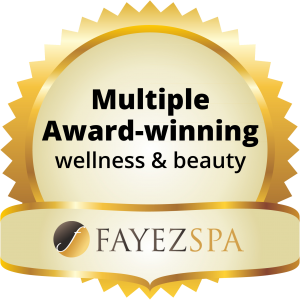 Biography of Fayez Tamba
Fayez Tamba initially began his career as a hairstylist in 1975. He quickly earned a reputation for excellence as a leading stylist, competing in numerous global and national competitions and winning many awards for his creativity in hair design between 1975 and 1982.
Fayez has never been content to maintain the status quo. For years, he had a vision of operating a facility offering various beauty treatments under one roof. As a result of the solid reputation he had established as a stylist combined with determination, diligence, extensive research and complete dedication to his dream, in 1983 he opened Fayez Beauty Spa and introduced the day spa concept to the City of London and surrounding region, making it the first authentic day spa in Southern Ontario.
In 1995, Fayez purchased the property which is the present location of Fayez Spa. The ensuing years have seen several dramatic expansions, resulting in a wellness retreat of over 9,500 square feet and 45 dedicated and skilled aestheticians, stylists and therapists performing an extensive menu of spa treatments. According to national Sun Media editorial, August 21, 2013, "Fayez Spa is worth the drive from anywhere to enjoy the ultimate day spa retreat."
In 2013, Fayez celebrated his spa's 30th anniversary acquiring even more notable honours. He was personally recognized as the only Canadian spa operator to receive an iSpa Innovate Award at the International Spa Association's Conference & Expo. Organic growth and innovation are the cornerstones that characterize Fayez's successful three decade modus operandi.