Laser Tattoo Removal with the Harmony XL Pro Laser
With tattoo removal, the phrase might make you think of a physical lift of the design from the surface of the skin (which would be incredibly painful, to say the least). Gratefully, technology has modernized and there are non-invasive and more comfortable alternatives. At Fayez Spa, we use the Harmony XL PRO laser system designed by Alma Lasers for its incredible efficiency, capable of delivering satisfying results in just a few short sessions.
How Does the Harmony XL Pro Laser Work?
This treatment works by using a high-powered, short pulsed beam of light, which is delivered at highly precise wavelengths to the dermis. It specifically targets dark ink colours, such as blue, green, and black, while also honing in on bright inks, like reds, oranges, and yellows. Over time, this pulsating light will break up the tattoo's ink pigments into smaller particles, enabling them to be more easily absorbed by the skin. With continued treatment over multiple sessions, the tattoo will either fade or completely disappear as your body gets to work, with extra sessions likely necessary to eliminate more complicated, larger designs.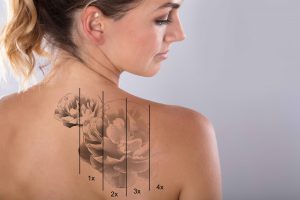 FAQs
WHAT CAN I EXPECT FROM A TATTOO REMOVAL TREATMENT?
Pulses of the Harmony XL Pro's energy target the pigment, breaking it into tiny particles the body is capable of flushing out through the lymphatic system. This will create a superficial wound and turn the tattooed skin white for several minutes. Some patients experience tenderness, bruising, and swelling over the tattoo following treatment, and the development of blisters or scabs is possible 8-72 hours post-treatment. These will heal within 1-2 weeks, and full healing is complete within 4-8 weeks. Additional appointments will be scheduled after the healing period to ensure proper recovery.
Anyone with an unwanted tattoo is a potential candidate for laser tattoo removal. The Harmony XL Pro laser isn't only good on all colours, but works on most skin types. During your consultation, you'll receive a comprehensive treatment plan for removing your tattoo, so you'll know upfront what to expect from your experience.
AM I ABLE TO KEEP SECTIONS OF MY TATTOO (FOR INSTANCE, CAN I JUST REMOVE A NAME?)
Of course! Tattoos are expensive, time-consuming pieces of art and we believe in preserving whichever elements you wish to keep. With our innovative laser treatments, we can target specific areas for removal. This is great for adding onto a full-back tattoo that has a mistake here and there or for getting rid of unwanted names.
IS LASER TATTOO REMOVAL VERY PAINFUL?
At Fayez Spa, we believe in your absolute comfort and safety, which is why we chose the Harmony XL PRO as our go-to treatment solution for troublesome tattoos. It's a non-invasive yet highly effective way to clear away partial or complete tattoos, using special wavelengths to clear pigmentation away. A numbing cream is applied to the area being treated to reduce sensitivity and help you relax.
CAN MY TATTOO BE REMOVED IN ONE SESSION?
Generally, 6 to 10 sessions are required for the best results. Each session is performed 8 weeks apart from one another. The deep-cleaning processes performed by the laser's wavelengths require precision accuracy and time to ensure a complete removal, especially for more complicated tattoos.
WHICH TATTOOS ARE HARDEST TO REMOVE?
Every patient is different, as is every tattoo. Factors that determine the speed and success of tattoo removal with the Harmony XL Pro laser include:
Age, quality, density, and depth of the tattoo's ink
Overall skin condition and tone of the tattoo area
Size, colours, and location of the tattoo
The rate your body breaks down and filters out the ink
In the few weeks following your tattoo removal session, the body filters out the treated ink particles. As such, it may take all that time to see visible changes to the tattoo from your treatments. Depending on the size of your tattoo, treatments can be as quick as 5-10 minutes, or up to 30 minutes for larger images. During your consultation at Fayez Spa, prior to the first session, we will carefully assess your tattoo and recommend an appropriate course of action.
Tattoo Removal – 15 minute session