Prophecy Cream has cracked the code. For the first time, hyaluronic acid can effectively
be delivered deep into the epidermis, topically – no needles and no injections!
No other cream or topical solution can make this claim.
Available for purchase in our spa boutique.

ULTIMATE HYDRATION
Ensure optimal water-content balance by delivering hyaluronic acid to attract water molecules and "inflate" upon contact with them.
LESS WRINKLES
Diminish depth and minimizes the appearance of wrinkles by ensuring ongoing and long-lasting hydration that "plumps up" the skin from within.
IMPROVED FIRMNESS
Provide skin cells with the hydrated and nutrient-rich environment necessary for robust, firm and healthy skin layers.
BETTER ELASTICITY
Support the structure of elastin and collagen fibres to improve the skin's resilience and smooth, youthful appearance.
ACCELERATED RECOVERY
Support accelerated healing of dry, rough, photo-damaged, sensitive skin as well as cases of acne and rosacea. Diminish the appearance of large pores and uneven skin tone. Reverse the signs of aging by acting as a powerful antioxidant and protecting against the damages of free radicals.
What is hyaluronic acid and why do we need it?
Hyaluronic acid is an anti-aging powerhouse. It is a naturally-occurring molecule that holds more than 1000 times its weight in water, giving skin a plump, hydrated, youthful appearance. It's also a powerful antioxidant, fighting free radicals that age our skin. It even facilitates skin renewal, replacing mature skin cells with healthy ones.
Unfortunately, as clinical studies have shown, the skin drastically loses its ability to produce sufficient hyaluronic acid as we age.
The Prophecy Difference: Our proprietary micronization process
Prophecy has cracked the code with their proprietary process, producing micronized hyaluronic acid that remainsmicronized in the cream formula, until it permeates deep within the epidermis. For the first time, hyaluronic acid can be replenished topically, with Prophecy Cream. Ultimate hydration from within, for less wrinkles, improved firmness, and better elasticity.
The Prophecy micronization process is scientifically proven, through 7 years of research and development.
This process is unique because it's performed after HA is mixed with water, so the HA molecules remain micronized and are able to permeate the skin. Once absorbed, micronized HA molecules bind with 1,000 times their weight in water, and act as an inflated cushion, supporting tissue structures that have lost volume, to restore youthful bouncy skin.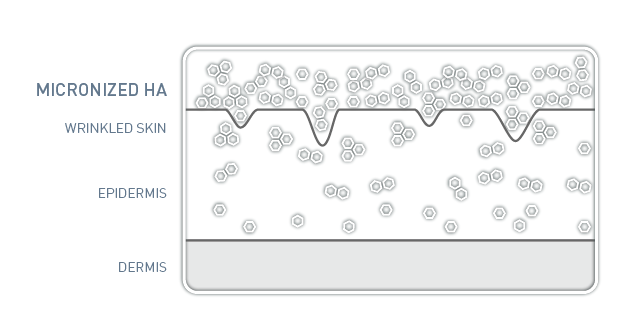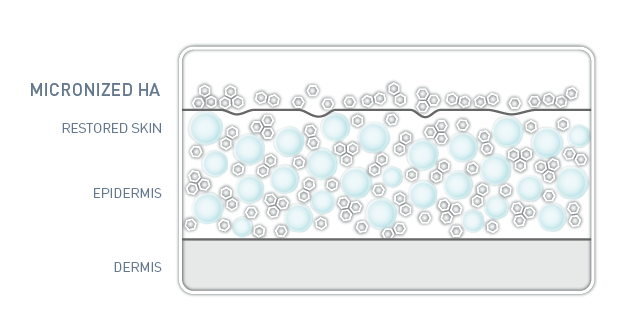 Micronized hyaluronic acid molecules permeate the skin barrier and reach the deepest layer of the epidermis. These molecules have improved the ability to hydrate the skin and fight free radicals.
Micronized hyaluronic acid attracts moisture from the water-rich dermis and increases hydration levels from within. Bigger micronized hyaluronic acid molecules remain on the skin's surface and retain moisture from the outer environment.