Permanent Hair Reduction with Waxing
A revolutionary permanent hair reduction treatment performed by trained, professional aestheticians combines traditional, hair removal by waxing/threading with a unique series of patented products to reduce hair growth for any area of skin: body, face and intimate areas.
Similar benefits of IPL/Laser Hair Removal without the limitations!
Suitable for any hair type (dark, white, blonde, red, baby hair)
Suitable for any skin type (dark, tan, light)
Suitable for all ages
Suitable for all parts of the body (including face & intimate areas)
Painless treatment (no added sensation beyond that of waxing)
Free of side effects (no burns, blemishes, pigment changes)
Enjoy the sun anytime (no UV light sensitivity)
Is it pain-free?
Yes, the treatment is completely pain-free, adding no sensation beyond that of a normal waxing. The application of the patented products after the epilation wax is similar in feeling to applying skin lotion. There is no risk of burning, scarring or discoloration and no side effects have been observed.
How many treatments  do I need?
A  series of 12 treatments is recommended to effectively reduce the hair in most areas. The need for a series of treatments is due to the way that hair grows in stages, with only about 10-15% of the hair on your body at any one time in the growth stage where the treatment can be effective. The exact number of treatments needed may vary among individuals and areas of the body.
How soon will I see results?
Typically results become visibly obvious after 2-3 treatments, with a full course of 12 treatments recommended to stop the growth of most of the hair. The speed of visible results varies among individuals and body parts but in general, about 10-15% of hair reduction is seen per treatment. A slowing of hair growth and a lightening of the regrowth of hair are additional side benefits experienced by many people.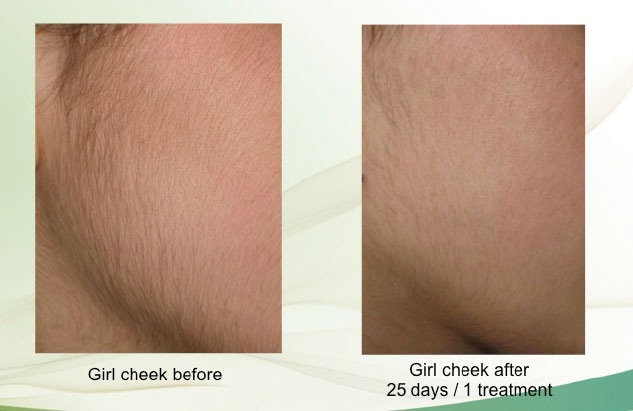 Is it safe?
The products consist essentially of natural ingredients that are suitable to all skin types. However if you have very sensitive skin, it is recommended that you have the products tested on a small portion of your skin prior to beginning the treatment.
Are there any side effects?
There have been no side effects observed to the usage of the products since the creation of the product. However, the epilation work done prior to applying the products may cause irritation and redness, particularly on individuals with thick hair or those who have their epilation done for the first time.
What does the treatment cost?
This treatment requires a complimentary consultation to discuss your needs and expectations. The cost will be confirmed during the  consultation.
Brazilian – Single Session
Cheeks or Sideburns – Single Session
Chin or Eyebrows or Lip – Single Session
Full Arm – Single Session
Full Leg – Single Session
Full Face – Single Session
Half Arm – Single Session
Half Leg – Single Session
Underarm – Single Session