Micro-needling with Xcellarispro for Hair Loss
XCELLARIS PRO, the new hair growth treatment by Dermaroller, is an 8-week treatment protocol that was designed to create the optimal conditions for reversing the process of hair loss. The product is based on natural and highly potent active ingredients, which target the hair follicles and the surrounding tissue.
Unlike regular topical products, the active ingredients of XCELLARIS PRO go beyond the surface of the scalp and penetrate deeper into the skin. The Health Canada Approved eDermaStamp creates thousands of micro-channels, which significantly increase the absorption of active ingredients, ensuring maximum treatment efficacy.
Clinical Benefits
Slows down hair loss
Stimulates hair growth
Strengthens hair roots
Increases thickness and density
Maintains function and structure of healthy skin tissue
Ensures optimal anchorage of the hair roots
Powerful Active Ingredients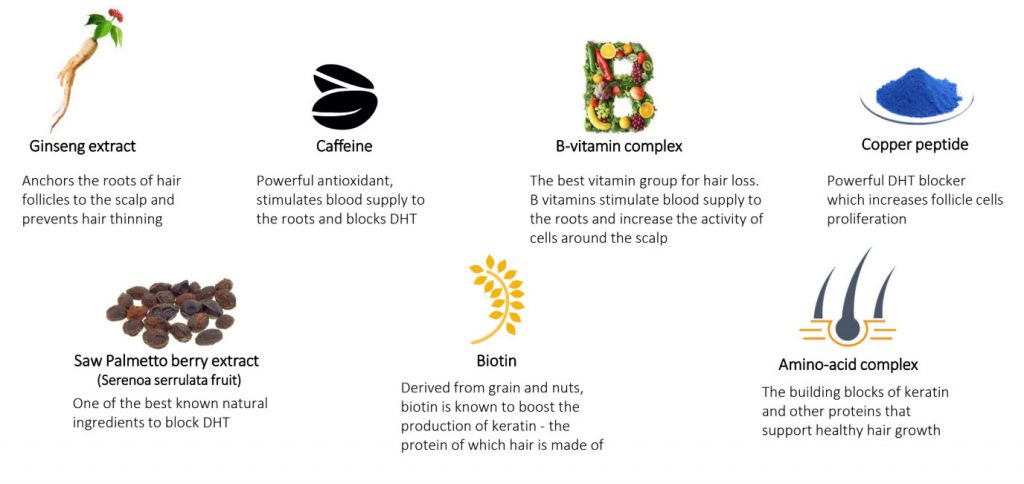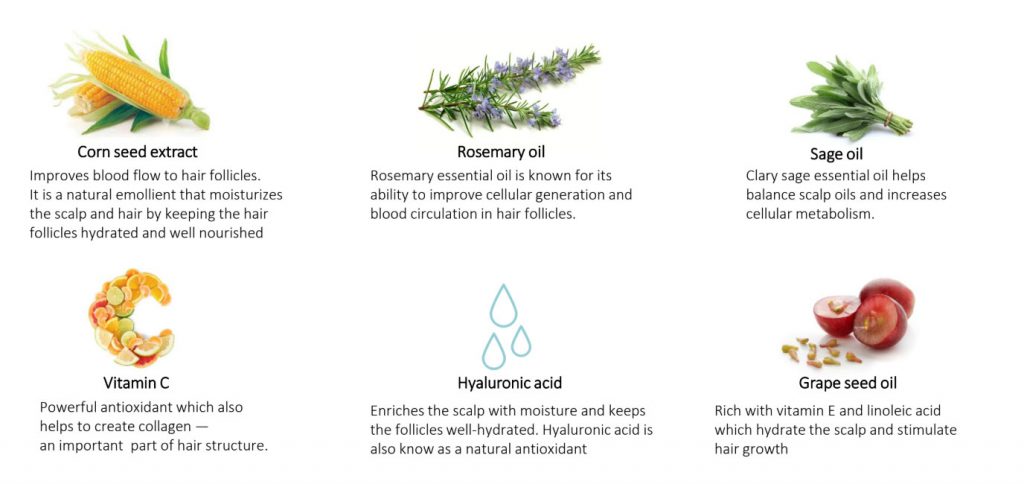 The Xcellaris Pro Kit Combines Professional & Homecare Treatments
The Hair Repair & Skin Rejuvenation vitamin ampules are use in-clinic during the professional eDermaStamp treatments. They promote and maintain healthy hair growth and insure optimum cellular metabolism. The Hair Lotion is used at home between the professional treatments and can be combined with the home-care Dermaroller to nourish and repair hair fibers and increase hair volume.
The Kit Contains: 
4 Hair Repair Ampules (applied in-spa) –  A robust complex of natural DHT-blockers, antioxidants and cell activity boosters
4 Skin Rejuvenation Vitamin Ampules (applied in-spa) – Rich with vitamins and amino acids necessary for hair growth
1 bottle of Hair Lotion – Therapeutic complex of DHT blockers, antioxidants and scalp-rejuvenation agents PLUS 1 Home-care DermaRoller & Cleaner for use at home to help with product penetration.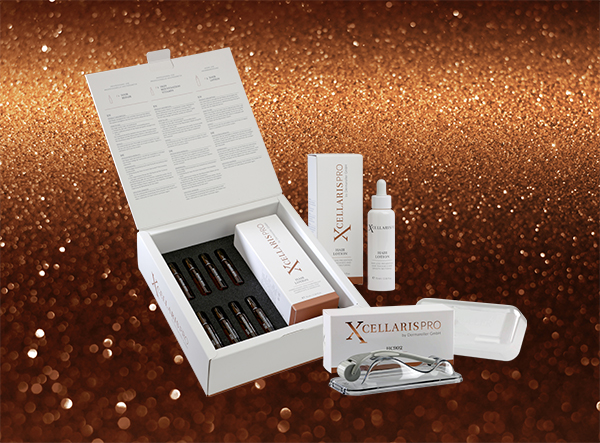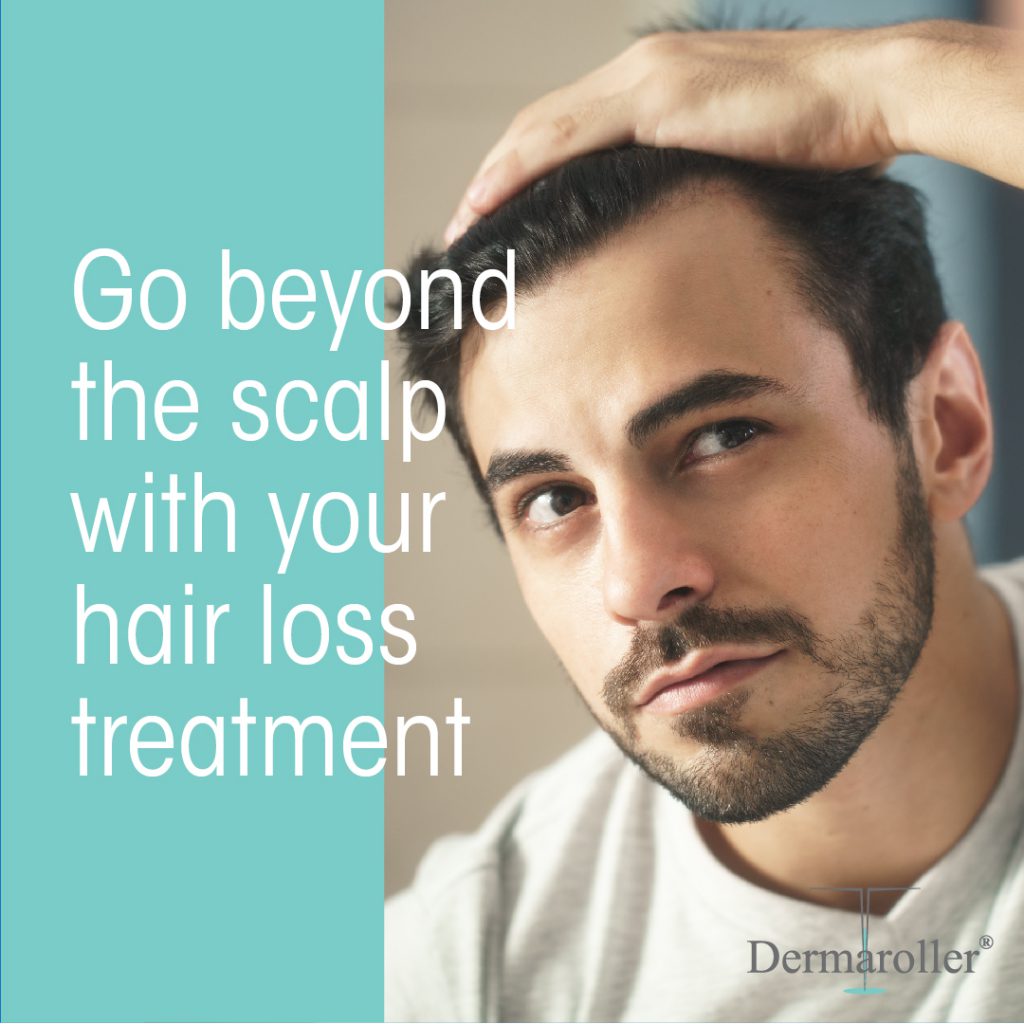 Why do we lose hair? Hair loss is multi-factorial; we lose hair due to the following:
Natural aging of the scalp tissue
Sun exposure
Nutrient deficiencies
Pollution
Diet, nutrition and more
Hereditary imbalanced hormonal activity
Male-Pattern Baldness: Also known as 'male alopecia', the condition is marked by a receding front hairline and hair loss on the crown of the head. Male alopecia may start during teenage years, and will affect about 60% of adult males.
Female-Pattern Baldness: Also known as 'female alopecia', female-pattern baldness is characterized by thinning of hair on the top of the scalp. Approximately, 45% of women over the age of 50 are affected to some degree by female alopecia.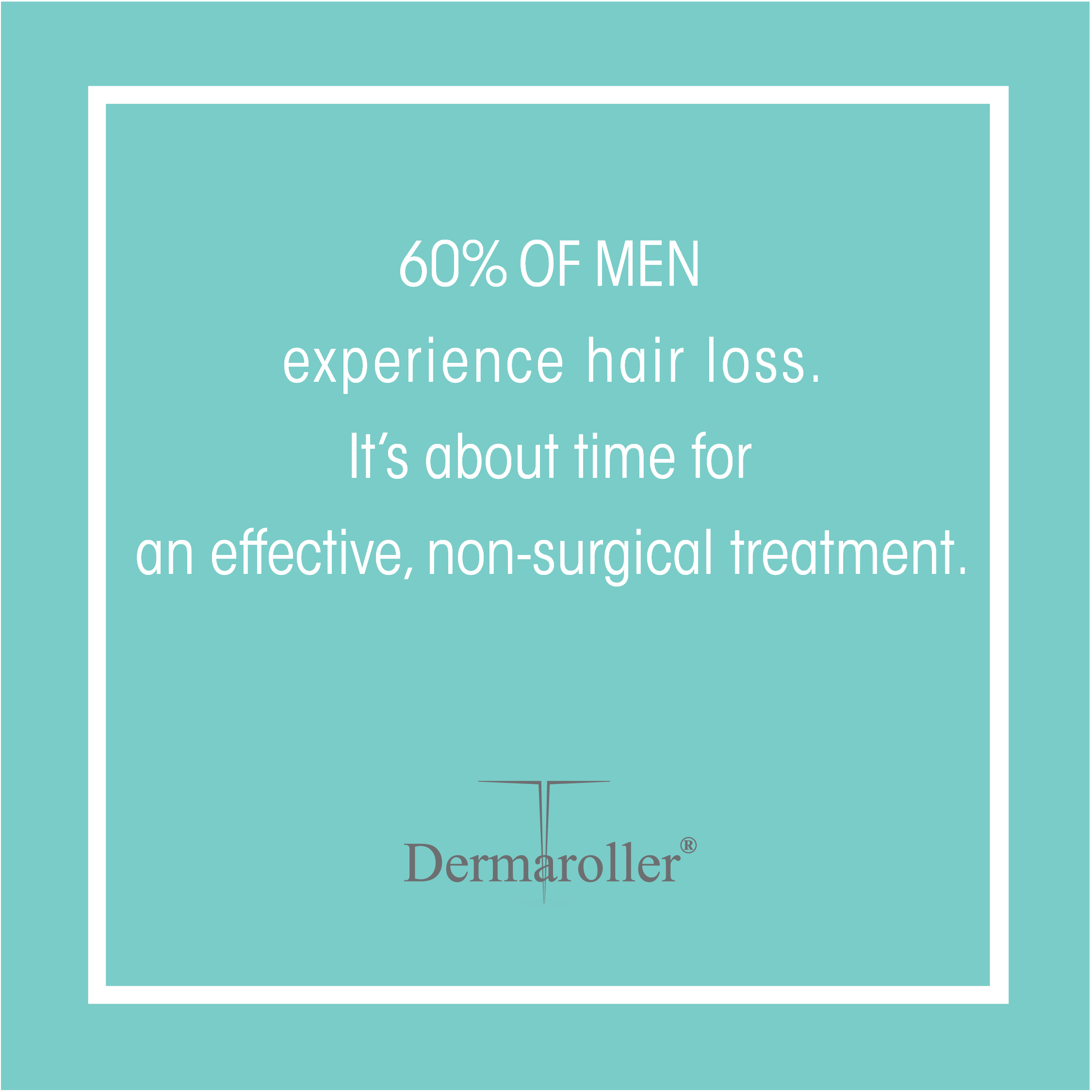 However, the scientific community widely acknowledges that the #1 factor of hair loss is hereditary imbalanced hormonal activity in our hair follicles – meaning, genes. Specifically, the blame is pointed towards one hormone called: Dihydrotestosterone, or DHT.
DHT is derived from testosterone by the 5-a reductase enzyme, which is active within the hair follicle cells of both men and women. High levels of DHT trigger the 'hair loss genes' of the cells and prevents normal hair growth. The supply of blood and nutrients is compromised and the hair grows thinner and shorter until it is completely eliminated. The biological process is also known as follicle miniaturization (follicles that shrink over time).
Frequently asked…
What Can I Expect During My Microneedling Treatment?
The treatment begins with a thorough shampoo and blowdry to ensure the scalp and hair is cleansed of any residues. When the micro-needling begins, the active ingredients are applied and the eDermaStamp® glides over the scalp. During the collagen induction process, the tiny needles will penetrate through the skin creating micro-lesions, which aids in optimal absorption for the active ingredients to penetrate the tissues and follicles.
What Does Microneedling Feel Like?
You may experience some discomfort depending on your pain tolerance. The needling itself, typically feels like a slight vibration and tingle on the skin. You may experience a wind-burn or sun-burn sensation on the skin immediately after the treatment.
Do I Need Downtime For This Treatment?
Downtime is minimal with micro-needling but does differ from person to person. The treated area(s) may feel similar to a mild sunburn and may be slightly pink to red in color for the first 24-48 hours. You should avoid working out, hot showers, massages and sun exposure for 48 hours post treatment.
How Long Does It Take To See Results?
Results are not immediate. The healing process is completed only after 5-6 weeks post treatment. The most noticeable results are 1-3 months after the last session. Individual results may vary.
What Type Of Preconditioning Is Required?
The treatment requires no preconditioning of the skin prior to treatment. Clients who use Accutane must stop usage 12 months prior to treatment.
Is There An Age Requirement Or Restriction For The Treatment?
Clients range between 13-75 years old. Those with a health condition or concern should consult with their physician prior to scheduling a peel treatment.
Micro-needling Hair Growth
XCELLARIS PRO combined with eDermastamp is the new Hair Growth treatment by DermaRoller and was designed to create the optimal conditions for reversing the process of hair loss due to hereditary hormonal imbalances, natural aging of the scalp tissue, sun exposure, nutrient deficiencies, pollution and more. XCELLARIS PRO is based on natural and highly potent active ingredients which target the hair follicles and the surrounding skin tissue to help:
Slow down hair loss
Stimulate hair growth
Strengthen hair roots
Increase thickness and density
Maintain function and structure of healthy skin tissue
Ensure optimal anchorage of the hair roots
This 8 week program combines in spa clinical Micro-needling treatments (one per week for 8 consecutive weeks) with powerful active ingredients as well as required home care products. All home care products are included in this package. A complimentary consultation is required prior to treatment.
Ask us about Financing and Payment options available for this treatment!
Approximately 30 minutes